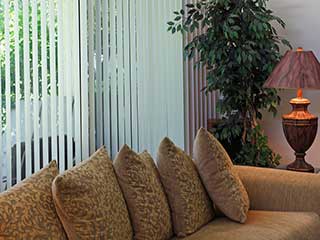 It may surprise you how cheap our custom vertical blinds turn out in terms of price. You never have to spend big bucks when you work with Master Blinds & Shades. People choose us because we offer great deals on custom window coverings, but also because of our amazing range of high-quality designs. You can pick out the perfect vertical blinds for windows in any part of any property. Use amazing materials like aluminum, vinyl and real wood to create the ideal complement to your home's decor. That's not all, though.
Motorized Vertical Blinds For San Francisco Doors & Windows
We offer fantastic options such as motorized vertical blinds, which add an amazing touch of modern convenience to your property. You have a selection of features you can get for your new electric vertical blinds. From Wi-Fi connections to allow you to use your smartphone as a remote to automatic timers for opening and closing. We even install motorized blinds with sensors that self-adjust according to your input parameters. Speak with our San Francisco-based blinds makers and installers today to set up a free consultation at any local address nearby.
Affordable Vertical Blinds At High-Quality
We're the top provider of custom window coverings in your area, and we offer an amazing catalog of the best-quality products around. From made-to-measure designs to cheap vertical blind installation, we're the company of choice for discerning property owners all across the San Francisco area. Low prices are our specialty, though we never compromise on quality. You can trust that our high-quality products will stand the test of time, and will make an amazing addition to your home or business. Speak with one of our representatives today and we'll book a free consultation. This gives you the chance to see our products in person, and our experts will be able to answer any questions you have. Schedule your appointment today by calling now.
Vertical Blinds in San Francisco Homes
Any window in your property can benefit from the addition of custom blinds. One of the ways many homeowners choose to keep their living rooms comfortable, for instance, is by installing vertical blinds for patio doors. These minimize sun shining into your kitchen or living room, guaranteeing privacy when it's needed. Use vertical blinds for sliding glass doors for the same reason, keeping your comfortable without getting in the way. Many homeowners also decide that their bedroom windows can be improved with better window coverings. Vertical blinds with curtains are a popular choice here, granting total coverage and even more comprehensive natural light control. Learn about our low rates for vertical blind designs by contacting our locally-based team today.
Vertical Blinds For Commercial Properties
Businesses often neglect the importance of window coverings on their premises. As with any other part of a company, "good enough" isn't really what you need. If you want to maximize productivity and project an attractive professional image, then custom vertical blinds for office windows are a smart, cheap investment. Use our custom design process to create blinds that complement your business's identity. Benefit from reduced headaches and eye-strain, and even cheaper climate control costs. Speak with our team in San Francisco today for a free quote.
Free Quotes on Vertical Window Treatments
We provide everyone in the San Francisco area with access to high-quality low-price vertical blinds and all sorts of other coverings for glass surfaces of all types. From skylight blinds to made-to-measure shading solutions for sliding glass doors and window walls. For your free consultation, (with no obligation to make a purchase) contact Master Blinds & Shades today and book an appointment.