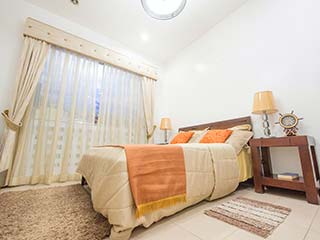 It's hard to understand what blackout window curtains do for a room that already has them, but anyone who's seen the before and after does! Blackout curtains turn any room into a sanctuary from the outside, completely under your control as far as lighting and privacy are concerned. When closed, a set of blackout window curtains act like a stone wall as far as light is concerned, but let in as much air and open as easily as any other curtains. Motorized blackout curtains are especially good at protecting the indoor environment of your San Francisco property, especially for bedrooms, bathrooms, and guestrooms. With a good custom design, your blackout window curtains and draperies can transform your entire house!
Blackout Window Curtain Designs
All blackout curtains have a reflective acrylic layer, either on their interior sides or (much more often) sandwiched between two layers of fabric. This lets the sunlight weaken as it passes through the fabric, reflects off the acrylic, and then passes back. There's no glare off of the curtains. Even strong sunlight gets absorbed by the cloth. A set of blackout window curtains need good sizing. Covering every square inch of the window pane is important. No short curtains will do unless you have really small windows! Besides fitting, make sure you're getting the style and color of blackout window curtains you want. And remember, motorized curtains and draperies provide an efficient and effortless way to control sunlight in your San Francisco residence or business. Consider the different smart motorized drapery solutions to see how Wi-Fi remotes and silent motors can add to your needs.
Picking a Style For Motorized Blackout Draperies & Curtains
If you have room for them and don't mind the manual draw, heavy blackout drapes are a decadently attractive option for living and bedroom windows. If you want motorized blackout curtains, though, you're better off choosing something more carefully fitted to the window's height. Dark-colored blackout drapes might lend themselves well to a soothing bedroom environment, but white blackout curtains can liven things up while still keeping out the sun. Bathrooms also benefit from white blackout curtains; they match the atmosphere of the room while making sure your privacy isn't at risk. Blackout drapes and curtains can also benefit from some embellishment. Drapes with valences and trim. Blackout window curtains with some embroidered designs or tails. There's room for creativity with our custom-designed shading solutions!
Motorized Blackout Curtains
Just like other shading solutions, you can combine blackout window curtains with smart motors and controls. Aside from saving you the trouble of walking all around the building when you want to open or close the curtains, motorization improves utility. Put them on a timer or sunlight sensor, and your motorized blackout curtains will protect your sleep in the mornings and your furniture in midday. With Somfy controls and smart Lutron curtain and drape motorization options, you can automate the system to work conveniently. Adding motorized curtains to your San Francisco area home or different commercial businesses helps with décor but also offers a lot of utility. Control sunlight more efficiently and reduce energy bills in the process. Motorized blackout curtains are cheaper than they used to be, and even advanced computerized systems are user friendly.
Book a Free Consultation From San Francisco Blackout Curtains Experts
If you think blackout draperies, motorized or with regular curtain rods, sound like the shading solution you need, make an appointment so we can size your windows and make design decisions. We design blackout draperies, hand-drawn and motorized blackout curtains, and accessories for the above, all in-house and at affordable prices. With made-to-size window shading solutions in beautiful designs and smart Somfy and Lutron controls, you can get exactly the sophisticated and elegant look you want with the most convenience. Get in touch with us today to get a free estimate on special-made blackout curtains or draperies for your San Francisco windows!