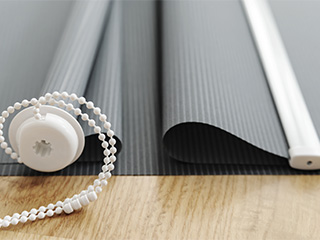 If you're looking for the most customizable window covering options around San Francisco, our team has the perfect solution! Roller shades come in a huge variety of textures, patterns, and colors. This allows you to have a look that's uniform throughout your home while allowing each room to have the treatments suited to the style present. There are various types of roller shades to choose from, each presenting a more ideal solution for different types of rooms and windows.
Motorized Roller Shades – Effortless Remote Control
An easy way to enrich interior décor in a high-tech way, motorized roller shades have proven increasingly popular every year. You can choose from handsets, wall switches, or using your own smartphone/tablet as the remote. No more unnecessary strings for kids to mess with, or to detract from the décor. Motorized roller shades can connect to your smart home system too! You can have them self-adjust according to the light and temperature. This can even help reduce energy spending by having the motorized roller shades utilize brightness sensors to adjust themselves. That saves you time or even the need to think about raising or lowering the window covers. We've installed motorized roller shades for many San Francisco and nearby residents. The simplicity and smoothness of these automatic covers make them add a lot without becoming overbearing.
Protect Furniture With Blackout Roller Shades
Direct sunlight for long periods of time on your furniture can cause the colors to become bleached and faded. Unfortunately, this causes permanent damage that usually isn't reparable. However, blackout roller treatments can help prevent this from happening. The fabric they're made from will completely keep out all sunlight as needed, and thanks to being custom made to fit your window, there won't be any cracks of light sneaking through either. They're excellent for large windows where a lot of sunlight can come through. Motorized blackout roller shades will take care of any out of reach windows as well.
Sheer Roller Covers Allow Natural Sunlight Without Damage
If you want to avoid sun damage and your San Francisco home heating up unnecessarily as previously mentioned, many types of covers can fit. But if you also want to enjoy natural sunlight, sheer roller window coverings will do the trick. Sheer roller shades block harmful UV rays, and reduce the heat that comes from direct sunlight by filtering it through the fabric. This way, you get to enjoy the beautiful, real light whenever you want, all without any of the downfalls of it! The fabric comes in multiple colors, and patterns as well, so you have your pick to fit any room.
Custom Roller Shades For Any San Francisco Window
Thanks to the straightforward design of roller window shades, you won't have any problem pairing them with any aesthetic! Their solid lines and set shape will match whatever room you put them in easily. These rolling covers work great in a wide range of spaces. Whether you have a bedroom that needs more privacy with blackout roller treatments, or you want to take a step into the future with motorized roller shades. Master Blinds & Shades stands ready to lend you a hand! Contact us to arrange for a no-obligation estimate at your local office or home.