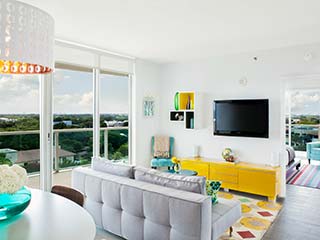 Window shades bring you a lot of energy efficiency if they're done right. High-quality window coverings, such as Lutron shades, make any room look great, with a range of designs and materials to choose from. With quick and quiet motors, Lutron shades go to the next level. You'll never lose out on the great looks of this high-quality brand, but you get amazing functionality as well. Custom San Francisco Lutron shade solutions are built to your specifications and fit perfectly with your room's decor. It's easy to control brightness and temperature at any time. There's a lot to choose from, meaning that Lutron shades will work in practically any workplace or home.
Why Choose Motorized Window Shades
You'll get a whole host of benefits when you get remote control shades, combined with smart sensors and motors. Lutron shades come with an extensive range of options for improving the comfort levels of your property. For instance, you can choose nearly any type of control options you desire. Wall switches are a convenient and unobtrusive way to move the shades, but you can also have remote controls that work anywhere in the room.
Automatic Window Coverings
For a real taste of cutting-edge tech, Lutron shades also work with WiFi, so you can link them to your home's smart system. This enables your smartphone, or even your voice, to control the window shades. Easily cut out uncomfortable glare or harsh sunlight with a simple press of a button. This convenience is what makes motorized Lutron shades such a great investment for any property.
Cost-Effective Lutron Shade Solutions in San Francisco
It doesn't take a lot of work to find the ideal custom window coverings. Our San Francisco team specializes in installing Lutron motorized shades. Our experts work closely with you to design the perfect automatic window covering system for your residential or commercial property. Schedule your free estimate and in-person consultation to start talking about different designs and features!