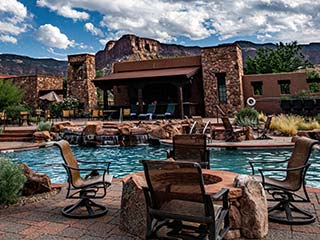 Every patio, porch, and deck is different. For a patio cover to fit any outdoor space properly, it really needs a custom design. Aside from a patio's size and shape, there's the question of how much support it has nearby, as well as how you plan to use it. Nowadays, you have the options of motorized patio shades, modular frames, solar panels, and other accessories to make your shades more useful. Outdoor covers can be as simple as some sail shades on hooks, or as complicated as networked motorized awnings. Finding a new cover for your San Francisco patio area means you need to focus on several aspects. From the functional usage to the aesthetics, patio covers, motorized or stationary, can offer you all sorts of options.
Types Of Patio Covers For San Francisco Yards & Porches
The two basic types of patio covers. Attached or hanging shades, like sail shades and awnings, stretch out from the side of a building or other preexisting structures. Freestanding patio shades come with their own frames and support beams and are something like outbuildings themselves. Within those categories, you have plenty of room for diversity. Freestanding patio shades might consist of a pop-up canopy over a deck or a set of self-supporting arms and panels. Attached shades include motorized awnings, one or two-sided patio tents, or even a solid roof on columns. Motorized patio covers bring San Francisco decks and courtyards into the 21st century with smart remote controls. Choosing motorized patio shades lets you have adjustable coverage that you can easily change. This option has proven very popular for motorized pergola canopies, deck covers, and even awnings.
Should I Get Motorized Patio Shades?
In some situations, you really need to go with automation. If you have a very large space to cover, for example, motorized patio shades might be the only feasible approach to retractable covering. Likewise, if you have outdoor shades that need to move quickly and frequently to accommodate children or paying customers, motorized awnings make life livable. On the other hand, manual patio covers are generally cheaper. At least for smaller yards and patios, old fashioned covers also require less maintenance (although they need much more work to operate!). In many cases, motorized patio covers are also harder to relocate or repurpose, though there are exceptions to every rule. Installing motorized patio shades for a San Francisco deck or a courtyard provides a lot of benefits at costs that remain affordable.
Covers For Larger Outdoor Spaces
If you have a big deck or lawn that needs covering, and you want to keep the option of opening it up sometimes, there's a couple of choices. Large spaces tend to do badly with sail shades since more surface area means higher wind stress on the attachment points. Pop up canopy tents with good support frames get around this issue. So do multipart attached patio shades and awnings, especially with some extra support poles added. The larger the space you need covering in your San Francisco backyard or patio, the more strongly you should consider choosing motorized patio shades rather than hand-powered ones. If you're going big, you might also want to think about adding solar strips to a motorized patio cover. Saving energy is always preferable, and photovoltaic materials are quite protective!
Made To Order Patio Shades
Our outdoor shades, awnings, and patio canopies are made to any specification. And you get the consultation appointment for free. Awnings for patios, covers with motors, and even sail shades to stretch over pools and open areas can all suit your needs. Get help from top San Francisco patio cover installers in the nearby area by scheduling a free estimate on shades and canopies for outdoors.