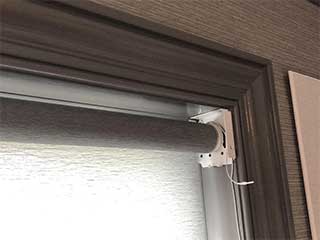 There are a lot of advantages to using motorized blinds in your home or business instead of the old fashioned kind. Motorized blinds are more than just convenient and time-saving. They're safer for children and much more reliable protection from the sun. Over time, they can even save you money! If you're interested in motorized blinds with a remote or sensor system in San Francisco, we offer the widest selection around at the most reasonable prices.
The Benefits Of Motorized Window Treatments
To start with the obvious, remote-controlled blinds need much less walking around to adjust. It might sound trivial at first, but if you have a lot of windows it can add up to a big time saver! If you take it a step further with an advanced system like smart Somfy blinds, you can make it even easier. Link your motorized window coverings up to Alexa or Google Home, and control all of them without getting out of your bed or chair! Networked or smart systems also let you react to San Francisco weather instantly or program them to open and close at certain times on their own. This saves you some heating and air conditioning expenses, not to mention furniture and wallpaper repair costs. Last but not least, motorized blinds have no cords or dangling strings that children could get tangled in or choke on.
Your Choice Of Electric Blinds and Shades
There are a ton of motorized window treatment types out there. With Master Blinds & Shades, you can get almost any type of blinds automated for optimal performance. Need something for your bedroom windows? Motorized blackout blinds sound like just the thing to give you complete darkness and privacy when it's time to sleep. Maybe something lighter and more transparent for a deck window or dining room? We offer a variety of automatic window coverings, including Lutron blinds and solar shades. These can give you just the high tech, environmentally-friendly effect you're looking for. Our consultants will always be happy to help you pick the best style for the window you need covering today!
Motorized Roller Shades And Venetian Blinds
Window blinds and shades are often used as synonyms, but they're different things. While blinds are made up of many rigid panels, shades are continuous fabric sheets. Motorized roller shades are a great space-saving alternative! Master Blinds & Shades stocks a variety of shades made from various materials like fabrics, bamboo, and more. For a hybrid between blinds and shades, you might want to look at our motorized Venetian blinds. These window treatments are airy and take up little space like shades, but are as opaque as any other blinds. Check out our Lutron blinds inventory in particular for some flexible, light motorized window covering options.
Horizontal And Vertical Motorized Blinds
Geometry is an important factor in choosing your new window treatments. Motorized vertical blinds are perfect for long, wall-length windows and glass doors. The more common horizontal blinds, meanwhile, are meant for taller, narrower windows. Both designs are compatible with a large number of stylistic and material options. If you need motorized blackout blinds, for instance, we can set you up with some of either orientation. Motorized Venetian blinds can also come in vertical sets, perfect for porch and patio entrances. With materials like faux wood (and real timber) or metal and vinyl, your motorized blinds can add to the décor without adding extra upkeep.
Set Up Advanced Blinds Control Systems In San Francisco
With our inventory of products like Somfy blinds and accessories, Master Blinds & Shades is well equipped to connect your motorized window treatments to any kind of smart house system. These "smart" motorized blinds allow for Wi-Fi connectivity, as well as connection to any app-based control interface. Each of our installation projects includes wiring, programming, and software installation for any relevant systems. You get the complete package for motorized blinds, completely custom made for your San Francisco residence or office space.
Custom Motorized Blinds With Free Quotes
Looking for an excellent source for automatic blinds in the San Francisco area? Go ahead and reach out to us to get a free estimate on our entire collection. From motorized vertical blinds to automatic solar shades, we can set you up with the right automatic coverings for your business or home. Call us to arrange a free consultation appointment at any local bay area residence or office. The wide and diverse world of motorized blinds awaits!