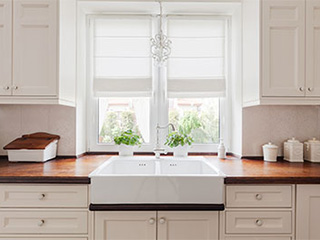 Any tasteful decoration scheme can find a place for these ornate window treatments. Roman shades in kitchen windows, Roman shades for bathrooms and living rooms, and of course for bedrooms and galleries. Master Blinds & Shades can set you up with some classic Roman style window shades at any address near the San Francisco area. All of our shading products are custom-made, hand-installed, and sure to please your guests and family alike!
So, What Are Roman Shades?
Roman shades are designed to fold up into a pleated or scalloped texture when raised and to hang straight down when lowered. A favorite for Victorian and similar decoration schemes, Roman-style coverings aren't just for windows. Roman shades for French doors, or sliding glass doors and balcony entrances, are equally popular. With your choice of color, fabric, and embellishments, you can fit these shades' old fashioned elegance to any domestic theme. Roman shades are also famous for how well they go with other window treatments. Get some curtains, drapes, or even thinner roller shades to complement yours.
Custom Made Window Coverings
The default rectangular style isn't the only option. How about a relaxed Roman shade set, with sensual curves hanging down toward the center of your windowsill? Give us a San Francisco address, and we'll make and install them for you! Maybe you'd like your roman shades with curtains, for a palatial-looking array of window coverings? With the addition of valences, you can make a Roman shade and curtain set the centerpiece of the room! You can also request tails, slits, embroidery, and all sorts of other decorations. Of course, like all of our custom-made window treatments, you get your choice of colors and fabric types.
Motorized Roman Shades
Roman shades might be classic, but Master Blinds & Shades can serve them up with modern convenience and child safety features. With our magnetic Roman shades, you can adjust the shades by hand without any need for cords or machinery. The system of magnets along the window frame lets you raise or lower the shades to your desired level, and then sticks them there. You can also invest in motorized Roman shades. Now, you can raise or lower your shades from across the house with the press of a button, or even set them to adjust automatically. With the addition of our smart control systems, you can take it further still and teach your shades to sense light and heat conditions. You'll save money in the long run by not having to worry about damage to furniture, carpeting, or wallpaper. The options are almost limitless!
Book a Free Estimate
If you live anywhere around San Francisco, your eligible for our blinds and window shades delivery and installation services. Make an appointment and we'll send our interior design consultants over to help you pick out the best color and style of custom Roman shades. Our in-person consultation is free, and includes a quote! Once you know what you want, we'll get started custom-crafting the new Roman shades to your specifications. Call anytime to book a free consultation.